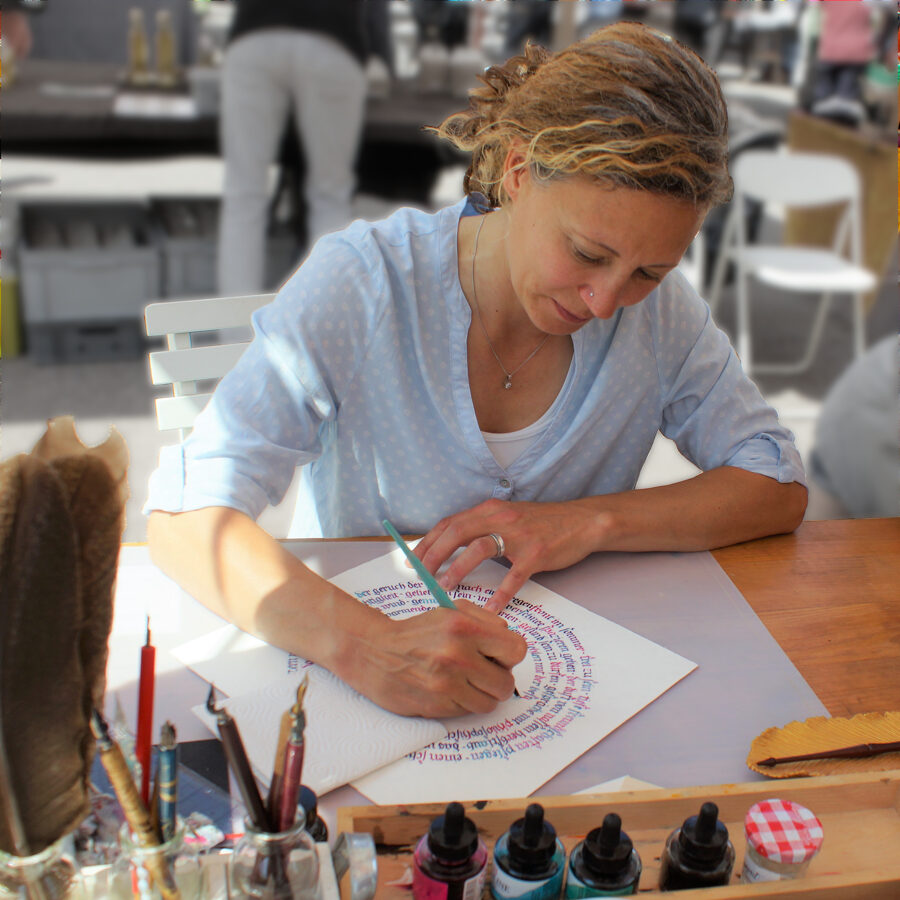 Calligraphy is the art of beautiful writing. However, it is much more than "just" letters - it offers the opportunity to convey messages emotionally.
With my calligraphy I want to make a modest contribution to a moment of happiness or a ray of hope,
a moment of greatness or simply a joyful surprise in the life of a cherished person. Bring your special appreciation to someone you love with a hand-crafted card, invitation, or other exclusive piece of writing. Something unique for someone special!

Browse through the existing cards or contact me for an individual creation to your taste. I would be happy to design individual solutions for you - originals as well as small print editions. All cards are designed manually and most of them receive their final touch by hand after any duplication.

I am looking forward to your inquiry. With kind regards:
Martina Metthez-Schürch
********************************************************************************************
About me
Growing up in the Bernese Seeland, I completed an apprenticeship in the nineties as a typographer in the region. However, my fascination for letters began earlier.
Already as a little girl, I was thrilled with the large and heavy old books with gilt edges that my mother kept in the living room. The thick pages were printed with letters that looked so different from the ones I learned to read and write in school. My father gave me his old nibs as I began to draw them, and my grandmother explained the use of β and final-s. Since then calligraphy has not let go of me.

Over the years, I have acquired various fonts and techniques. Fine art writing is to me an island in the hectic everyday life, because for this quiet, time and leisure is needed. Its possibilities are endless and all the different shapes, colours and materials are an inspiring source of creativity. In two courses with master calligrapher Mr. Fritz Tschanz I was able to further improve my skills. Almost every day, I am drawn to my desk to continue to work on my writings. Let yourself be inspired!